October is possibly one of the most anticipated months of the year. Fall season starts in the Northern Hemisphere while spring takes over the southern part of the globe — then the month ends with a celebration of all things scary, Halloween! From enjoying spring music and autumn in the valleys to costume competitions, here's what our communities around the world are up to this month!
Cozy Autumn Walks in the Northern Hemisphere
There's no experience quite like wrapping yourself up in warm clothes, hot drink in hand, and taking in the unique colors of the surroundings in autumn. No wonder our members chose to mark the beginning of the season outdoors!
On Saturday, 16 October, Consuls Andrea Vid, Maya Co, and Evelyn Zhang took the Milan Weekend Explorers Group on a beautiful hike in Switzerland. Their weekend started aboard a train from Domodossola in Italy to Locarno in Switzerland — a trip famous for crossing several scenic valleys between the countries! Then they went on a hike that offers up-close views of the valleys and stopped for some amazing photos along the trail. Just look at that scenic landscape!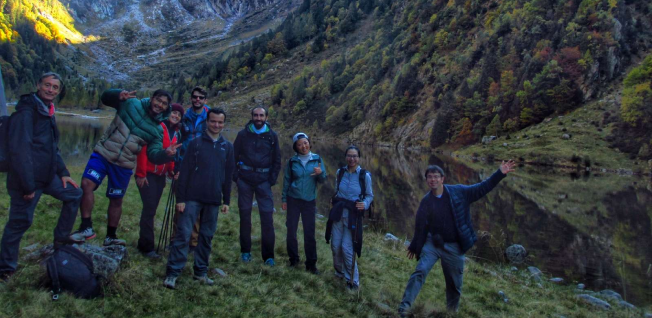 The Parma Community also chose to enjoy the crisp autumn air on Thursday, 14 October at Lostello — a charming community meeting point surrounded by nature. Our members gathered around and shared delightful conversations with each other as they sipped on classic Spritz. Thank you to Ambassador Susan Pinkston for hosting this wonderful evening!
Could you think of any better way to enjoy a cup of coffee than while surrounded by the mountains? This is exactly what the Athens Coffee Group did on Sunday, 3 October at the Mon Mont Cafe Bar — a café offering delicious coffee and dreamy views of Greece. Thank you to Consul Sofia Vasilara for hosting this activity.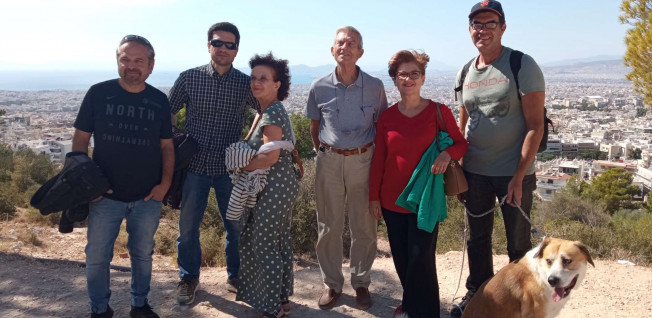 While pumpkins represent autumn in several parts of the world, the Turin Excursions & Fun Group celebrated with a different kind of seasonal treat — porcini mushrooms! On Sunday, 10 October, activity hosts Fabio Maritano, Laura Celotto, and Cinzia Avalle took the group to a porcini festival in Giaveno. This popular event features the mushroom prepared in various ways, from fried porcini to tagliatelle with mushrooms — we're hungry just thinking about all those delicious dishes that our members got to enjoy!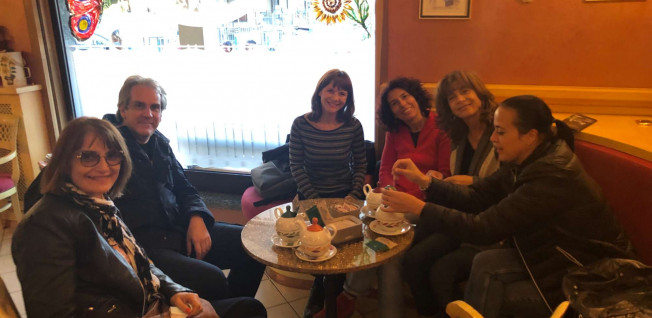 Spring Music in the Southern Hemisphere
On the other side of the globe, there's a renewed sense of excitement in the air as spring finally arrives. As leaves and flowers come back to nature, our members decided to mark the occasion with music that perfectly captures the joy of the new season!
On Tuesday, 12 October, Consul Danielle Figueiredo took the Rio de Janeiro Culture Group on a night of entertainment and learning on the vibrant streets of Brazil. Our members watched a beautiful performance of percussion instruments played in a roda de samba (circle dance) — with the option to try playing their own!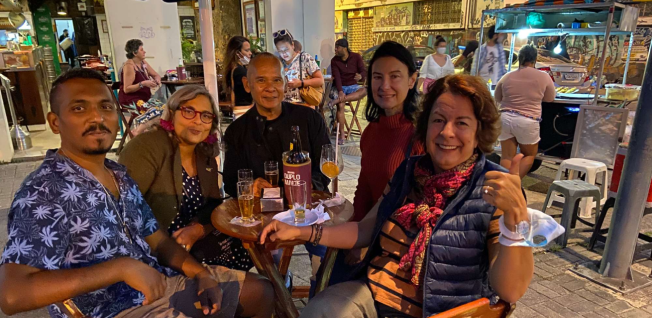 Over at Peru, the Lima Cultural & Miscellaneous Group chose a more intimate gathering with live music to set the mood. On Saturday, 2 October, Consul Valeria Barreto took the group to El Tayta — a cozy bar that features performances from live bands and drinks to toast the new season with!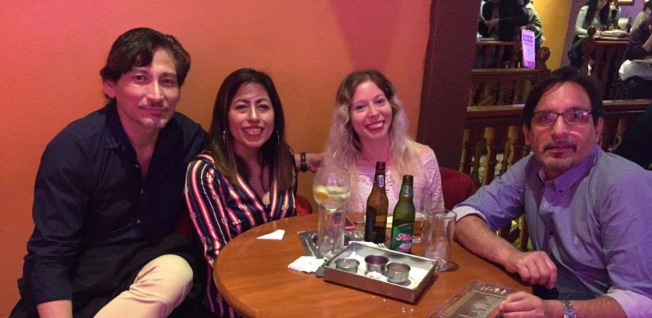 Dressing Up for Oktoberfest and Iconic Films
For Germans and fans of their culture alike, the middle of September until the beginning of October means bringing out the lederhosen and dirndl (traditional German clothing) and beer, beer, beer. That's why we can't forget to add Oktoberfest to this list — even if the original festivities in Munich got cancelled this year! And speaking of dressing up, some of our members decided to channel their favorite movie characters to attend an opening night and an upcoming themed party!
The Mexico City German Speakers Group decided to bring Oktoberfest right where they are. On Thursday, 14 October, the group met up at a biergarten — an outdoor area where they enjoyed popular German food like sausage, pretzel, and of course, beer! Thank you to Consul Britta Hillen for hosting this event, and we absolutely love those outfits!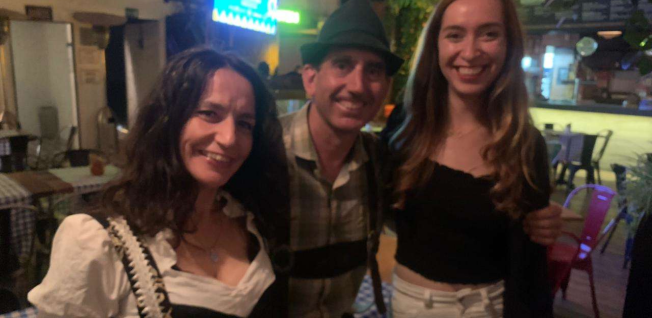 On Sunday, 17 October, the Buenos Aires Beer Lovers Group enjoyed a more laidback Oktoberfest night at the popular drinking spot Antares. Everyone was in good spirits as they enjoyed great selections of their favorite drink! Thank you for hosting this night out Consuls Ron Engelberg and Fernando Pergolini.
The new James Bond film just dropped, and the Munich Cinema Tour Group attended the highly anticipated opening night on Thursday, 30 September. Before going into the action-packed world of Bond, some of them met first for dinner and drinks — no doubt to discuss their favorite parts and characters! Some didn't even miss the opportunity to dress up in a dashing tuxedo just like the legendary spy! Thank you to Consul Axel Roebkers for organizing such an exciting night.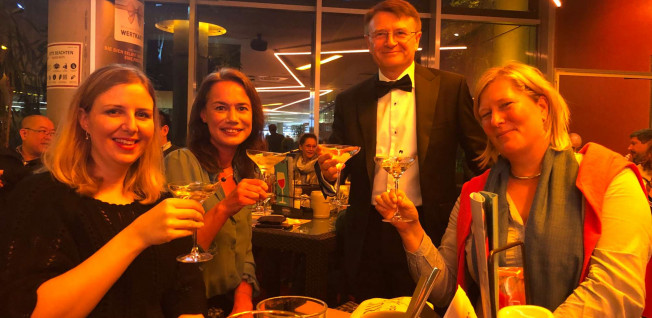 Over at the Shanghai Community, their InterNations Official Event happening on Friday, 29 October, celebrates an iconic film from the 1950s: Roman Holiday. Dress up as either your favorite character from the movie or just in your most fashionable Italian look and head over to the main event at the chic Italian restaurant Italo Trattoria. We heard there's also an afterparty at the popular nightlife spot Celia Academy, so there's so much to look forward to! Thank you to Ambassadors Semih Erken and Aylin Basak for organizing this event — we can't wait to see your photos!
Getting into the Halloween Spirit
Whether you're a horror fan or not, it's hard not to get into the Halloween spirit with all the pumpkins, decorations, and treats floating around! This year, our communities are pulling out all the stops to celebrate the spookiest time of the year, from creepy costumes to scary stories.
On Friday, 15 October, the Newcastle Community put on their scariest characters and kicked off the Halloween celebrations at this InterNations Official Event. There were welcome drinks, pizza, and, of course, candies to enjoy at the event. It seems everyone really wanted to win that costume contest because we love (and fear) the amazing costumes that our members showed up with! Thank you to Ambassadors Victoria Probert and Tam Shed for hosting this event.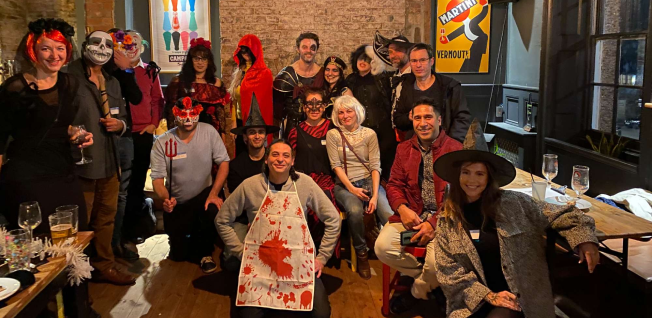 Is your costume ready yet? Because there's a lot of thrilling Halloween-themed InterNations Official Events happening in our communities around the globe that you wouldn't want to miss!
On Friday, 22 October, the Charlotte Community dares everyone to a "spooktacular" costume contest happening at the QC Social Lounge. The night features special appetizers and a prize for the best costume! Thank you to Ambassadors Gerrit Baumann, Laven Ramchandani, Victoria U Bell, Monique Haberbeck, Nia Neilson, and Wanda Strickfaden for hosting this event.
If you love Halloween stories, you're in for a treat at the Cincinnati Community's event on Tuesday, 26 October. Hosted by Ambassadors Valerie Macarie and Melisse May, members will meet up at The Pub Rockwood for a night of sharing stories and traditions. Come as you are or in costume, either way, there's a hauntingly good night to look forward to!
The Bishkek Community will celebrate in style at Novotel on Friday, 29 October. The amazing views plus delightful food at the restaurant provides the perfect set-up for Halloween. Thank you to Ambassador Marina Shentsova for organizing this event!
Ambassador Sandy Qian invites the Suzhou Community to a Halloween at the Hilton on Friday, 29 October. There will be a local Suzhou pingtan (a traditional musical/oral performance art form) and an exclusive area with a pool table and darts for a whole night of entertainment! Even better if you come in your costume!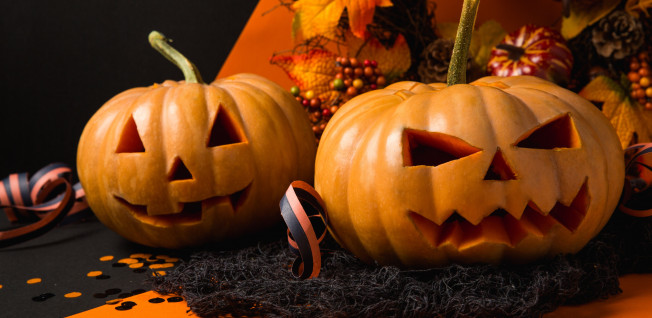 Over at the Warsaw Community, they will have their own costume contest happening at BRAVO Eat & Drink Restauracja on Saturday, 30 October. There will be a free welcome drink for everyone, a dance floor to show off your best moves, and, of course, a prize for the scariest attire! Thank you to the event hosts Nina AS and Patrycja Jane.
On Saturday, 30 October, the Guangzhou Community will take the party up to the rooftop of Morton's Grille! Show up in your best costume or grab your favorite props available at the event! Dig into delicious snack options, enjoy the free-flowing drinks, and dance to the live beats from a DJ. The most frightening Halloween costumes get to take home a prize! Thank you to Ambassadors Gisèle JI and Felipe Rufino Atkocius for throwing this exciting party.
There's no better time to tell stories about haunted houses and ghosts than on Halloween night. That's why on Sunday, 31 October, the Rome Singles Group will stick to a beloved tradition of sharing scary stories over appetizers and drinks at Burro & Sugo. Better practice your storytelling skills because whoever acts out the most frightening story gets a prize! Thank you to Consuls Eugene Sims, Zoë Giselle Gilbody-Dickerson, and Christian Righi for coming up with this unique activity.
Thank you to all Ambassadors, Consuls, and activity hosts for making October even more festive and colorful for our communities through your events!
Filed under: Events on October 20th, 2021