We're celebrating 14 years of making expat life a great experience at InterNations! Our members are at the heart of what we do, and we couldn't be prouder seeing our communities celebrate and show their InterNations spirit in unique ways — from lavish affairs to intimate gatherings, in person and online. We've rounded up the highlights, as well as upcoming celebrations to look forward to.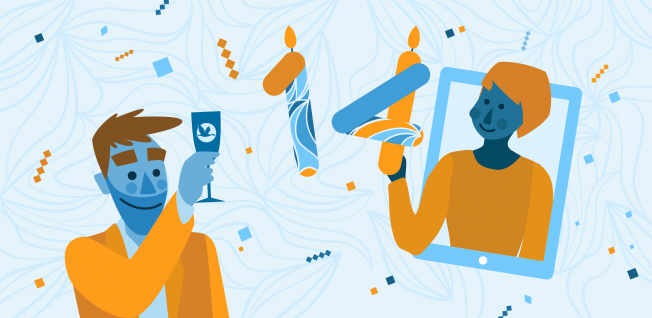 Grand Get-Togethers
With COVID-19 restrictions easing up in different parts of the world, InterNations members across the world were finally able to meet again in person, so communities pulled out all the stops for their anniversary parties!
The Guangzhou Community celebrated in style on Saturday, 11 September at the elegant G Bar in Grand Hyatt. Everyone got in the party spirit — dancing along to the live music, connecting with other members, and enjoying the sumptuous food and drinks! To round out the celebration, the guests received party favors and gathered around a birthday cake with their special anniversary cocktails. Thank you to Ambassadors Gisèle JI and Felipe Rufino Atkocius for organizing this InterNations Official Event!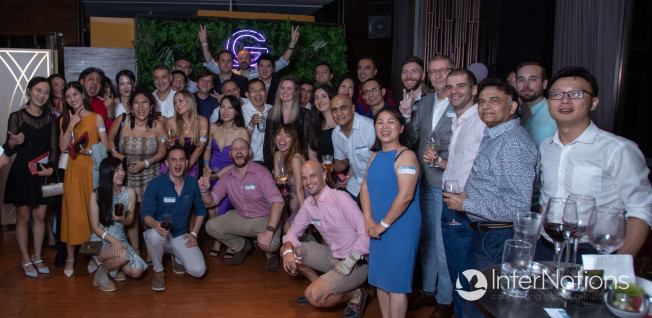 The colorful interiors of The Wildflower in Baldwin Park were just as vibrant as the party that the Orlando Community had there on Thursday, 19 August. Surrounded by chic, tropical decorations, our members enjoyed handcrafted cocktails while catching up with old friends and meeting new ones. We would like to thank Quinn Kampschroer and Marco Villaverde for making this possible!
On Wednesday, 1 September, Ambassadors Victor Todoriuc and Manali Soni Nathwani hosted an authentic Mexican feast for members of the Atlanta Community. They met up at Hacienda Vieja in Woodstock where they were welcomed with the restaurant's signature margarita and mouth-watering special appetizers.
Choosing a more intimate gathering, Consul Zuby Yzelle hosted simple yet fun-filled hangout on Saturday, 4 September for the Athens 30s Plus Gatherings Group. Meeting up at The Spot, our members shared some laughs and stories over some drinks and tasty snacks served at the quaint restaurant.
The Maastricht Out and About Group celebrated this year's anniversary and shared what InterNations means to them during an intimate night-out. With an outdoor area perfect for lounging and a casual atmosphere, the popular Café Zuid was the perfect venue for this get-together on Saturday, 4 September. Our members were able to just kick back and revel in each other's company. Thank you to Consuls Maz A. Z. and Armand Houtenhart for setting this up.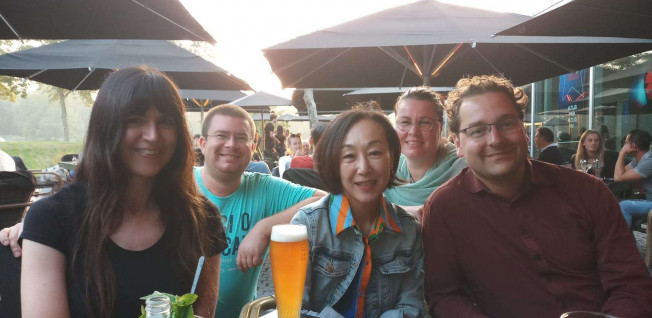 The Florence Aperitivo Group had an Italian-style celebration hosted by Consul Simona Mugelli on Monday, 6 September. Meeting up at the Borgo Antico located in the breathtaking neighborhood of Oltrarno in Florence, our members sipped aperitifs paired with traditional Tuscan appetizers — a perfect afternoon if you ask us.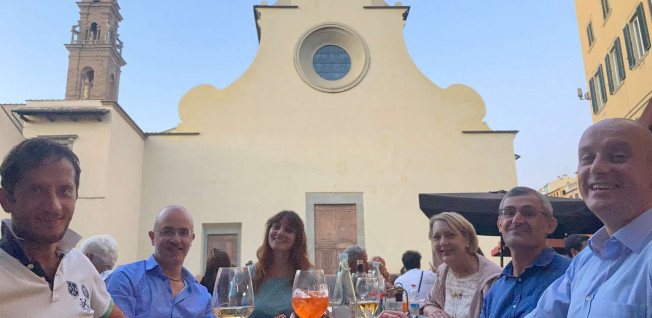 The Dubai Professional Networking Group switched things up by throwing a brunch party on Saturday, 18 September at Sofitel Dubai The Obelisk. The setting, where French art de vivre and ancient Egyptian heritage meet the culture of the UAE, complemented the gourmet dishes that our members indulged in. Thank you to Consuls Cristina Caringal, Jorge Rangel, and Amr Heikal for organizing this luxurious treat for our members!
The Stockholm City Trotters chose nature as the theme for their celebration. On Sunday 5 September, Consul Mari Ölund hosted a day of exploring Bergianska Trädgården — a botanical garden beautifully situated on the shores of Brunnsviken and showcases plants from all over the world. From enjoying locally produced dishes and pastries at the historic Gamla Orangeriet to discovering plants from various regions at Edvard Andersons Växthus, our members were able to experience several top activities and attractions in Stockholm all in one day!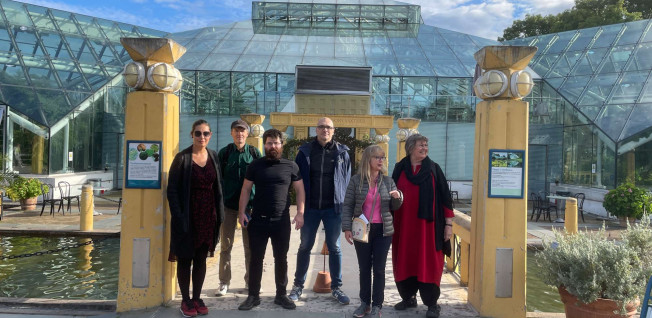 The Chicago Outdoor Adventures Group celebrated with an activity they all love — cycling! On Sunday, 12 September, Consuls Cecile Bouheraoua, Gene Newcomb, and Rohini Patel organized a 14-mile ride along Chicago's Lakefront Trail to mark InterNations' 14th birthday. They explored the scenic shoreline and stunning neighborhoods and since every birthday needs a cake, they topped off the day with some desserts and refreshments!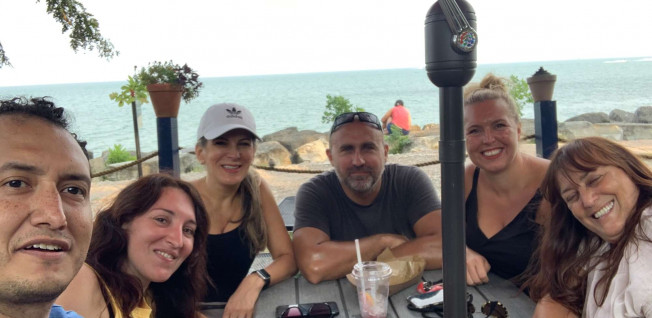 Meaningful Moments Online
For some of our communities, in-person gatherings are still not possible. However, that didn't stop them from coming up with creative ways to throw an anniversary bash online!
Consul Yiorgos Roubien hosted a virtual event on Sunday, 12 September, for the Athens Art for All Group. Diving into the world of music and art, they had a great time exchanging thoughts about 14 songs related to works of art. Who says you can't turn a party into a learning experience?
Celebrating by sharing a passion that connects them all, the Athens Photography Group had an insightful evening looking at and discussing 14 iconic photographs from all over the globe. On Tuesday, 14 September, Consuls Yiorgos Roubien, Vasilis Caravitis, and Lydia Basadios Passadaiou gathered their members for this virtual activity, offering them thoughtful ways to connect with each other!
The Celebrations Continue
The month may be coming to an end soon but the celebrations in our communities are not over yet.
The Dubai DinnerNations Group is hitting Dubai's new entertainment and dining spot, CUE at Grand Sheraton, on Friday, 24 September for a September Birthday Bash. Our members will be mesmerized by world-class acts and performances while filling up on a selection of international dishes. Then, on Wednesday, 29 September, the group takes the celebrations to Dusit Thani for a 6 Top Chefs, 1 Night: Anniversary Special! This one-of-a-kind food affair showcases street-style cuisine prepared by Dubai's most renowned chefs. These activities hosted by Consuls Cristina Caringal, Aline Fiat, and Amr Heikal sure make us wish we could be there too!
Over in Norfolk, Ambassador Anil A will be hosting celebratory drinks at the Garage Brewery on Sunday, 26 September. The microbrewery located in the heart of the Greenbrier area provides the perfect setting for a laidback celebration with delicious brews and cozy indoor and outdoor areas.
On Thursday, 30 September, the Chicago Spanish Speakers Group will combine the anniversary celebration with their love for the Spanish language. This online activity hosted by Consul Miguel Jiménez will be highlighting 14 unique Spanish songs in different genres. There will be lots of opportunities to chat in Spanish about different topics, so if you want to have fun conversations with a Spanish-speaking group or practice your language skills, this event is perfect for you!
We would like to thank all Ambassadors, Consuls, and activity hosts for organizing these wonderful gatherings for our communities. To all our members, we appreciate you bringing out your festive spirits for our 14th anniversary — we're looking forward to celebrating the next one with you!
Filed under: Events on September 21st, 2021