As some parts of the world gear up for the upcoming holiday season, November brings out some of the biggest festivities around the world — from Diwali in India to Thanksgiving in the United States. For some, it is all about the simple get-togethers and catching up on all the moments they missed out on. One thing is for sure, no matter the occasion, our communities always find ways to make any holiday special even if they are far from home. Check out some of the most amazing events this month!
Diwali: A Festival of Lights and Indian Flavors
Diwali, the five-day festival of lights is one of the most popular holidays in India; it celebrates not just the victory of light over darkness and the triumph of good over evil, but as well as family and togetherness. Some of our members may not be at home in India to celebrate, but they still had heartwarming celebrations with their communities, complete with vibrant lights and feasts!
On Sunday, 7 November, the Palm Beach Community celebrated Diwali with a feast of authentic Indian flavors! Ambassadors Jon Fay and Nadira S hosted a lunch for our members at Aroma Indian Restaurant where they got to enjoy various dishes from different regions of India.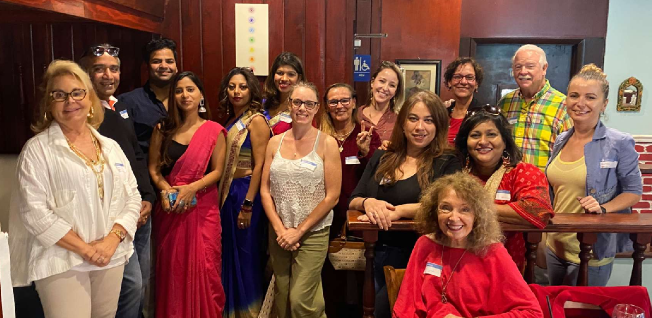 The Berlin New in Town Group marked the holiday by lighting some sparklers, indulging in traditional dishes like biryani, and of course, Indian sweets at Tandoori Nächte. Thank you to Consul Vinay Kumar for letting our members experience this wonderful celebration on Thursday, 4 November.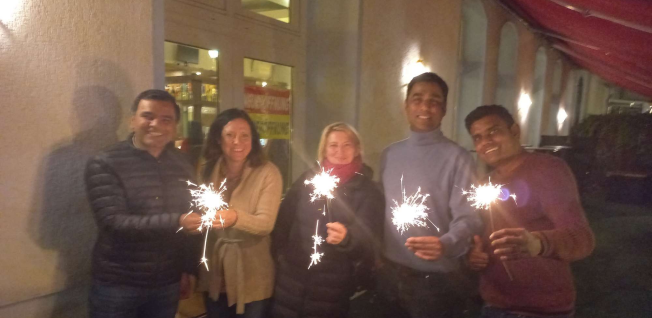 It's almost impossible to be able to try all that Indian cuisine has to offer, but the Vancouver Community did just that in honor of the festival of lights. On Saturday, 6 November, our members met up at the New India Buffet, Bar and Restaurant where they got to sample over 70 vegetarian and non-vegetarian dishes! Thank you to Ambassador Sandeep Menon and Consul Nitasha Rajora for hosting this InterNations Official Event!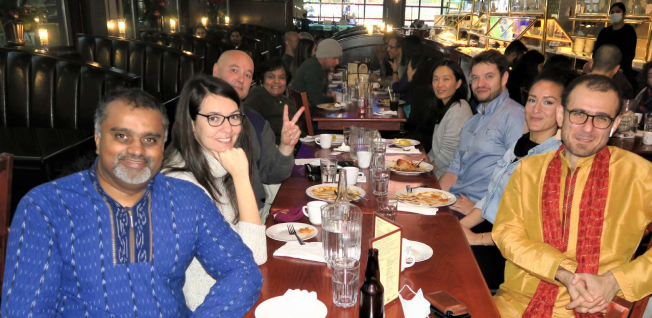 The Atlanta Community may not be in India to celebrate Diwali, but they were still able to enjoy a flavorful trip through the streets of India in this InterNations Official Event. On Wednesday, 10 November, Ambassadors Victor Todoriuc and Manali Soni Nathwani took our members to MASTI — an innovative restaurant that serves up fun, Indian street food! Everyone enjoyed some complimentary Indian sweets and appetizers too!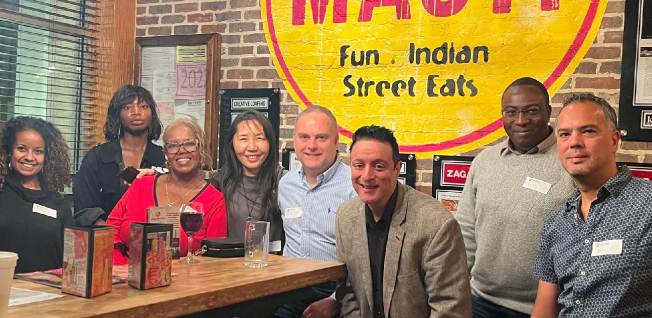 What's a celebration without festive music? The Global Music Group met up on Sunday, 14 November for Bollywood Beats: Diwali Edition; while listening to the best of Bollywood music, members from all over the globe lit candles, enjoyed savory Indian food and desserts, and showed off their best dance moves! Thank you to Arun Kumar, Gunsu van der Avoird, Yiorgos Roubien, Jania Mann, Cecile Bouheraoua, and Ashish Sharma for hosting this fun, virtual activity!
Thankful for Friendships on Thanksgiving
One of the best things about Thanksgiving, the iconic American holiday, is getting to spend it with loved ones. For some members of our communities, this does not just mean celebrating with their families, but being thankful for friends they met through InterNations!
On Monday, 15 November, members of the Seattle Community were thankful to celebrate Thanksgiving together at this InterNations Official Event. They picked the perfect spot for the celebration, the Melody Lynne Vineyard, with its cozy atmosphere and great selection of wines for raising a glass to friendship. Thank you to Ambassadors Katrina Davenny, Luiza Belkova, and Vikas Gupta for hosting this event!
Wish you could celebrate Thanksgiving despite the distance? Join the Global Social Networking Café Group for a Virtual Friendsgiving on Saturday, 20 November! Consuls Shelana P, Gary Weir, and Temi T prepared breakout rooms to recreate some of the traditional parts of a Thanksgiving celebration like enjoying a meal together, sharing stories over drinks, and playing games!
The Houston Community is shaking things up with a Thanksgiving party on Saturday, 20 November at the Black Swan at the Omni Houston Hotel. This popular nightclub features a lively space with Houston's hottest DJs playing hits that will have you dancing all night. Go check out this exciting event hosted by Ambassadors Aurelien Mangano, Farhan Abu Hamdan, Helio Rodriguez, and Bina Benavides!
Rediscovering the Outdoors, Creating New Memories
With more than a year spent in lockdown, our members are now rediscovering the beauty of the outdoors, all while catching up with old friends and meeting new ones!
On Saturday, 6 November, Consul Sylwia Wojslaw took the London Countryside Group to a scenic hike on the Greensand Way. They took a route that passes through mesmerizing woodlands and lakes, and must-see spots like the Winkworth Arboretum, River Wey, and Phillips Memorial Cloister. The perfect colors of autumn were also on display all along their path!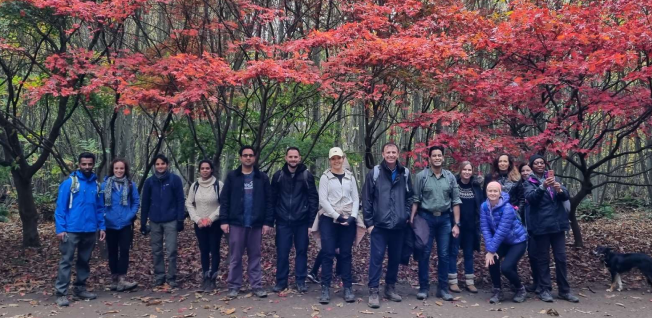 The San Francisco Peninsula Socials Group brought out their picnic baskets and blankets to enjoy the sunshine on Saturday, 13 November. They met up at the Montalvo grounds and enjoyed a casual stroll around the property which features a gorgeous Mediterranean-style villa and gardens! Thank you to Consul Naylene G for helping our members relax and explore one of the best spots in the area!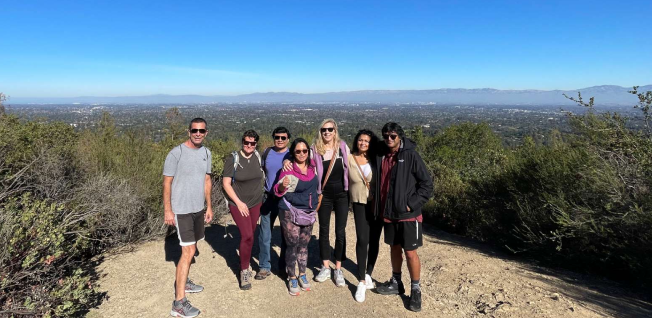 Over in Bangkok, the Bangkok Outdoor Group was also blessed with an amazing weather to discover a new side of the city. On Sunday, 7 November, members of the group started the day with a walk through the streets of Talad Noi, a historic neighborhood, appreciating the unique street art and architecture along the way. As the end to an already perfect day, they shared a delicious meal at one of the restaurants in Ong Ang — a gorgeous canal and popular tourist destination!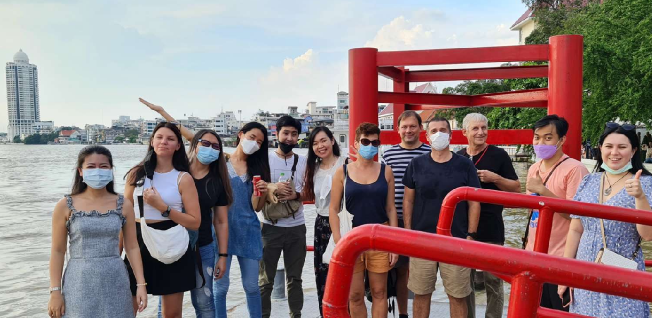 Thank you to all Ambassadors, Consuls, and hosts for tirelessly creating activities and events that don't just bring our members closer together, but also help them share and appreciate each other's cultures!
Filed under: Events on November 17th, 2021