April offers many great opportunities to get out of the house, enjoy the great weather, and celebrate. From Easter to Ramadan and exciting spring events, our communities have a lot to offer. Check out our monthly event and activity highlights!
Easter: Good Food and Fresh Air
Whether you celebrate Easter or not, like many of our members, you may also have been able to enjoy a long weekend. What a great opportunity to get together with other expats and global minds and to enjoy a relaxed brunch or a nice walk outside!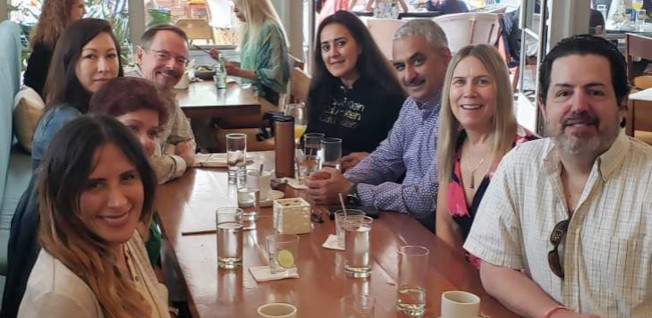 The Dallas Cook & Share Group met on Easter Sunday for a delightful Easter brunch. Between authentic Mexican cuisine and great company, the group had a great time. Thank you, Laurie Kudla, for organizing this activity.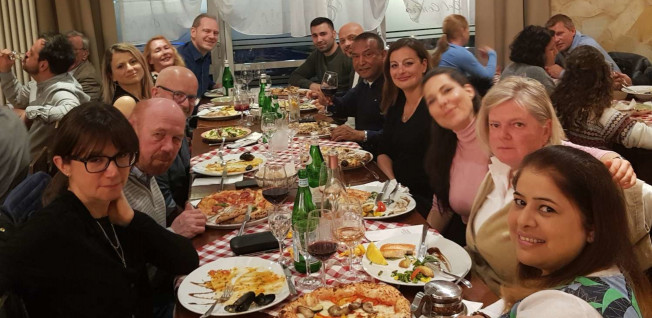 For the Nuremberg Mediterranean Culture Group, celebrating Easter was all about food as well. The group met for an Italian Easter Event. They enjoyed some top-class cucina italiana, including a wide range of wines, delicious cocktails, and pizza from a traditional wood-burning oven in the middle of the dining room. Thank you, Dimitra von der Weth, for getting the "Easter bunnies" from your group together for this special activity.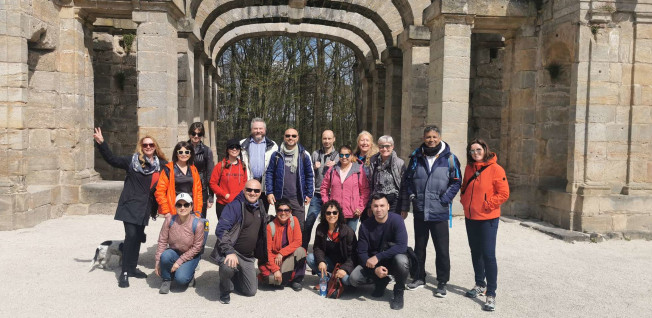 Of course, what would Easter be without a proper hike? The Nuremberg Hiking and More Group met for a twelve-kilometer city hike, exploring the city center and the green outskirts of Bayreuth. The wonderful day was completed by a stop at a local Biergarten and some delicious Bavarian food. Thanks to Antonio Sanua for organizing this hike.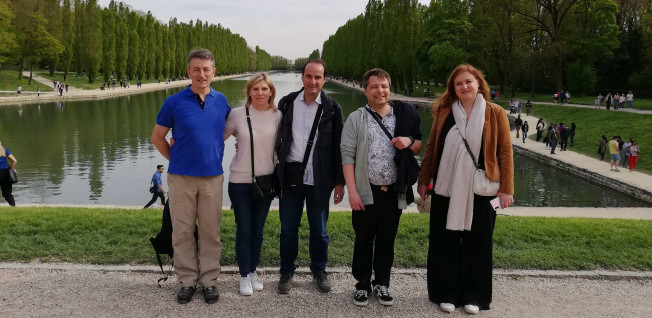 The Paris Cultures Worldwide Group also took a stroll outside this Easter weekend. The group met at the park surrounding Sceaux Castle to see the vibrant spring flowers and enjoy the beauty of the area. Thank you, Damien Caniou, for making this activity happen.
Ramadan: Get Together for Iftar Celebrations
From 1 April to 1 May 2022, Muslims around the world are celebrating the holy month of Ramadan. While devout Muslims fast from sunrise to sunset, breaking the fast is a great opportunity for our members to get together and share this tradition with each other.
On this occasion, the Houston Spanish Speakers Group will celebrate Arab-American Heritage Month together on 21 April. The group will meet at Fadi's, a Mediterranean Lebanese restaurant that offers plenty of delicious options. Thank you, Maria Elena Saab, for getting the group together.
The Muscat Dining Group will meet on 26 April to break the fast together during a traditional iftar dinner. Non-Muslims are very welcome to join in the fun as well. Thanks to Darlene Antonio for organizing this activity.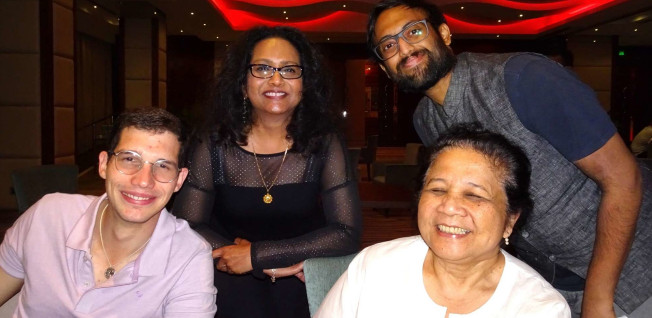 The Manama Social Get-Together Group gathered at the beginning of the month to celebrate the spirit of Ramadan. The newly renovated Al Fanar Rooftop at the Diplomat Radisson Blu offered breathtaking views of Bahrain, as well as delicious Middle Eastern food. It was the perfect opportunity to get together and create some memorable moments. Thanks to Sharmila Vadi Thota for hosting this great activity.
The Dubai Coffee Group has organized an activity to celebrate Ramadan together. Suhoor is the meal traditionally eaten before dawn to prepare for a new day of fasting. This suhoor might be a little early in the evening, but it is a great opportunity to get together before the fajr prayer. Thank you, Cristina Caringal, Aline Fiat, and Amr Heikal, for this great evening.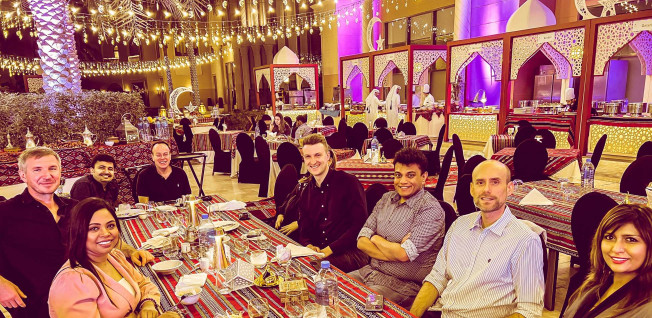 The Doha Community got together for a suhoor under the stars. The Pearl Oasis – Marsa Malaz Kempinski offered the appropriate setting and delicious flavors for this spectacular event. It was the perfect place to socialize after a day of reflection. Thank you, Saf P, for organizing this event.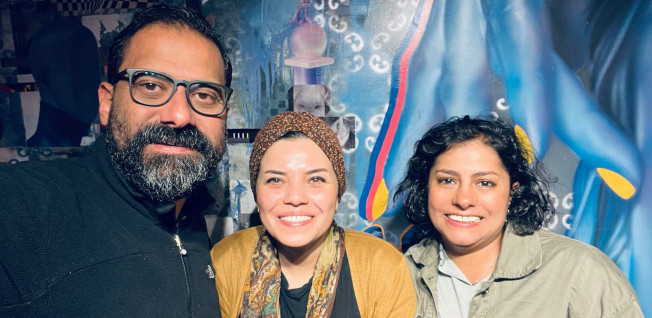 Members in Egypt also had the opportunity to celebrate the spirit of Ramadan with the Cairo World Travels Over Tea Group. Enjoying a spectacular view of the city, the group indulged in some oriental music and beverages, while creating some beautiful memories during this year's holy month. Thanks to Andrew B and Soraya Elhamwi for hosting this get-together.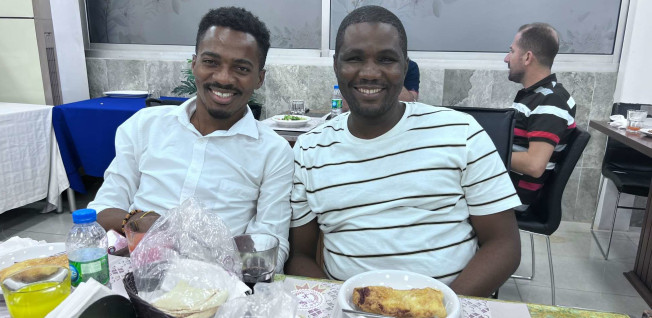 InterNations Luanda also hosted a Ramadan iftar. Members of the community met at a local Lebanese restaurant which offered a delicious iftar buffet. What a great way to celebrate and connect with fellow InterNations members. Thank you, Muhammed Jalloh and Janet Chaves, for organizing this event.
Spring: Spend Some Time Outside
Even if you don't celebrate Ramadan or Easter, April is still a fantastic time to go outside and spend time with friends. Our members in the Northern Hemisphere are ready for some sunshine and fresh spring air.
After a two-year break, Munich's Frühlingsfest (spring festival) is finally taking place again, with over 100 stalls and attractions, not to mention the beer tents. The Munich Explore Bavaria & Europe Group wasn't about to miss out on the opportunity to become a child again while enjoying some Lebkuchen (gingerbread) and the merry-go-rounds. Why not join them on 24 April? Thank you, Carlo Iacovacci, for organizing this activity.
Members of the Wiesbaden-Mainz Singles Group enjoyed some fresh air and a drink at a nice café at Kurpark. It was a relaxed get-together for new and established members to mingle, make new friends, and just have some fun. Thanks to Angela Perez and Salih Ozkan for hosting this activity.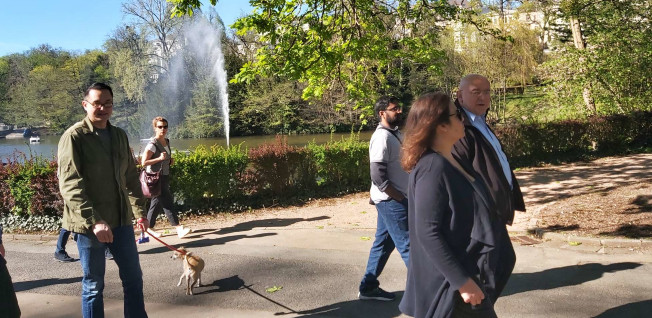 The Oslo Singles Group is also planning an opportunity to get out of the house. The group will meet on 30 April for a "not-alone" picnic to share some thoughts and plan future activities together. Come with food, drinks, and a picnic blanket to enjoy spending time outside in great company. Thank you, Rasa A, for hosting this get-together.
Members of the Stockholm Spontaneous Activities Group are going to celebrate the official start of spring with delicious drinks on a sunny rooftop terrace. Group members will have breathtaking views of the city while enjoying each other's company and just having a great time. Thanks to Daphne Spainhour for organizing this activity.
And what would spring be without some beautiful cherry blossoms? The San Francisco Culture and Arts Group will meet at Memorial Park in Cupertino to celebrate the city's Japanese culture and heritage. Thank you, Hala Abdoun, for hosting this activity.
Image credit: InterNations
Filed under: Events on April 21st, 2022