After we just said goodbye to 2021, the start of the Chinese and Lunar New Year on 1 February provided the perfect opportunity for another round of new year's celebrations. With Valentine's Day and the end of this year's carnival season, February offers even more excuses to throw a party. Here are just some highlights from the numerous InterNations events that make our communities around the world come alive this month.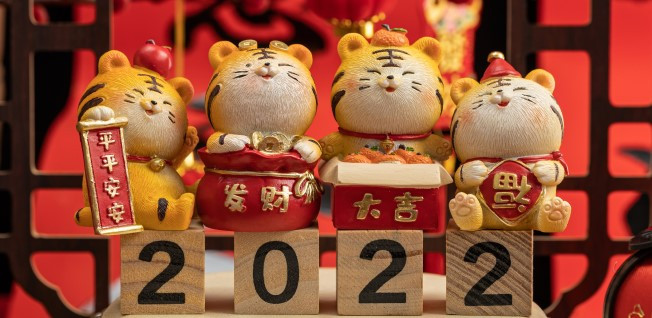 Year of the Tiger: Wishing You Happiness and Prosperity
The first day of February ushered in the Lunar New Year. This festival is celebrated by billions of people across East Asia and the world. According to the Chinese zodiac, 2022 is the Year of the Tiger. In Chinese mythology, the tiger is associated with bravery, strength, and warding off the forces of evil. Surely, the next twelve months must have some pleasant surprises in store for us!
Our San Francisco City Connect Group wanted to find out even more about what the future holds for them. They did not only sit down for a delicious meal in the country's oldest dim sum house on Sunday, 6 February. InterNations Consul Sharon Hajek also organized a personalized reading from a Chinese fortune teller for her guests. Let's hope that all their burning questions about 2022 were answered to their full satisfaction …
On the other US coast, our Ambassadors Alexandra Clement and Kat Kexin invited the Miami Community to welcome the Year of the Tiger in good spirits and an upbeat mood. The dress code for their Lunar & Chinese New Year Celebration on 2 February asked the guests to show up in red. This color traditionally symbolizes joy, luck, and happiness in Chinese culture. Most attendees happily complied, and as you can see, they looked quite stunning too!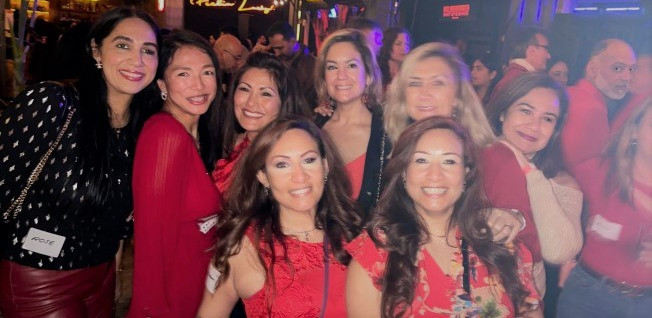 Of course, InterNations members in China joined the festivities for the Lunar New Year as well. For example, the Suzhou Community came together at the Year of the Tiger Event on Friday, 28 January. According to Ambassador Thomas Tong, there's no better way to celebrate than with a fresh beer, a hot meal, and, above all, good friends. May the joy of the new year be with them — and all of us — throughout 2022.
Love and Friendship: Treats on Valentine's Day
While the start of the month was dedicated to new beginnings, the middle of February was all about love. In honor of Valentine's Day on 14 February, numerous communities around the globe have organized a special treat. Our Kigali Ambassadors Abdulmalik Adegbola and Angel Ampurire, together with InterNations Consul Mona Lisa, hosted the first official event of the year in the Rwandan capital. At their (pre-)Valentine's Drinks on 12 February, they toasted both romantic love and the friendship we all share.
Spending Valentine's Day with friends was also on the minds of the Dubai Adventures Group: Consuls Ahmed Al Marakby, Issa Fraihat, and Abir Hassan announced that being single should not present any obstacles to enjoying Valentine's Day. They invited their guests to celebrate in great company and treat themselves with little gifts on 14 February.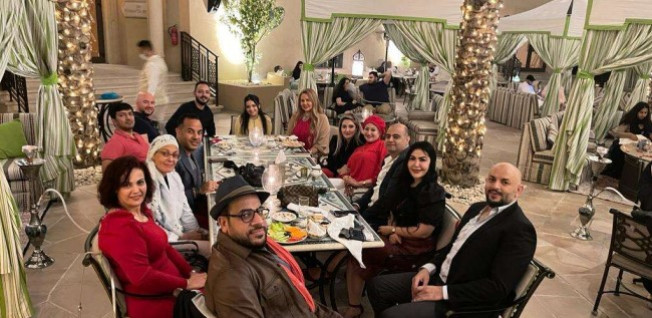 Whether single or lucky in love — the members of our Tokyo Community had the chance to dance away the night together on the weekend before Valentine's Day. InterNations Ambassador Nils Valentin had booked one of Roppongi's hottest nightclubs for the Special Valentine's Event on 12 February. The first 14 ladies to arrive also got treated with complimentary chocolates, breaking with local tradition. In Japan, it's usually the women who shower their loved ones with lots and lots of chocolate on Valentine's Day.
Not Just in Venice: Celebrating Carnival with InterNations
In keeping with the Year of the Tiger, this month will also end with roaring parties in many cities all over the world. In late February, the 2022 carnival season is going to be in full swing. And what better place to celebrate than Venice, famous for its historical costumes and grand festivities?
InterNations Ambassadors Miriam Panico and Francesca Cagnato kicked off this year's celebrations with the Venice Carnival Aperitif on Sunday, 13 February. Their guests gathered to enjoy some excellent Italian wines, Venetian-style finger food, and the magic of carnevale together.
The Rome Baltic Culture & Travel Party Group has taken things a little further, though. They will be traveling to Venice to participate in a wide variety of carnival events, starting on Saturday, 19 February.
Consuls Alessandro Dari, Francesco Di Tommaso, and Maria Ushakova have really gone all in with the program. Members of the group will be doing a pub crawl to explore Venice's traditional bacari (local bars), join a guided tour to follow in the footsteps of the legendary Giacomo Casanova, and have three different masquerade balls to choose from. Maybe there are still some open spots left for last-minute attendees …
If you can't make it to Venice, there are quite a few more carnival-themed celebrations scheduled across Italy and all around the globe. You're not the biggest fan of carnival? No worries, our InterNations Ambassadors and Consuls worldwide are creating many different, but equally amazing opportunities for you to meet your fellow expats and global minds in person again. Here's a big thank you to all those InterNations members who make the magic happen in the first place!
Don't forget to check out our event calendar to avoid missing out on any official events and activities.
Image credit: InterNations, iStockphoto
Filed under: Events on February 24th, 2022