While German cities are among the worst places to easily settle down abroad, Mexico City comes first. The top 10 cover many different geographical regions.
Top Findings
In #1 Mexico City, expats praise the friendliness of the population.
It is easy to make local friends in #2 Muscat.
#3 Valencia offers a great social life.
European cities make up the bottom 10, while the top 10 are more diverse.
The Iberian Peninsula and the Arabian Peninsula are well represented in the top 10 of the index.
The Top 10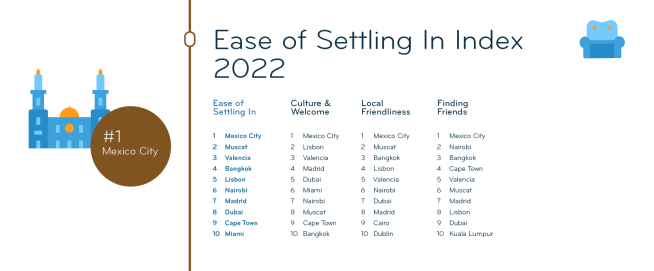 Methodology
There are 50 cities in the Expat City Ranking 2022 with a minimum of 50 respondents each. The Ease of Settling In Index consists of three subcategories — Local Friendliness, Finding Friends, and Culture & Welcome. These subcategories contain eight single factors in total which survey respondents rated on a scale from one to seven: the friendliness of local residents in general and towards foreign residents in particular, respondents' happiness with their social life and whether they have a personal support network in their host city, how easy it is to make local friends and get used to the local culture, and whether expats feel at home and generally welcome there.
(more…)
Filed under: Survey Data on November 29th, 2022 | Comments Off on The Cities That Make Settling In Easy … and Those That Do Not