From waking up with an early-morning Zumba session in Riyadh to watching the sun set over the River Rhine from Düsseldorf, our members in the Northern Hemisphere have been finding ways to enjoy the summer season, while winter is in full swing in the South. The last month has been spent getting used to our "new normal" way of life — let's take a look at how our communities across the globe have been making the most of it!
Bon Appétit from Our Communities!
The reopening of restaurants in many countries has been a cause for celebration not only among the foodies in our communities. On Saturday, 25 July, members in Jeddah met at the beautiful Papaya Restaurant, where they spent their lunch breaks surrounded by greenery as they caught up with one another. Thanks to our Ambassadors Farhani Dewi, Christophe Beaufays, and Ghassan Fayyad for organizing this event!
The Berlin Wine and Food Tasting Group met in Diwein in the heart of the city for an Italian-style aperitivo on Thursday, 6 August. Members Peter Durante and Marco Franceschin set up this cozy wine bar as a gift to the city that brought them together, and it served as the perfect venue for the group to unwind at the end of the day over a glass of wine and a selection of food from a buffet menu. Thanks for organizing, Ivana Grujicic!
Photo credit: Jan Zamojski
Members of the Last Minute Activities Group in Düsseldorf (pictured above) took a more German approach to their after-work drinks as they sampled craft beer together on Friday, 7 August. On tap, out of bottles, international, and local, the group was able to take their pick of the one hundred craft beers that HOLY CRAFT Beer Bar has to offer. We would like to say a big thank you to our Consul Anita Visvanath for organizing this experience, which was a great way for our members to start the weekend.
Meanwhile, over in Shanghai, community newcomers and old-timers alike met up at the ZUK Bar on Friday, 7 August. Here, they were able soak up the atmosphere of this fabulous venue while trying artisanal cocktails prepared by a world-class mixologist. Thank you to our Shanghai Ambassadors Catalina Calin and Jaime D. Medina for organizing this event!
Photo credit: Jaime D. Medina
Fresh Air and Photography
For those who prefer to find their Zen in the great outdoors, the summer sun has provided many opportunities for events outside over the past month, with some even having taken place before it had fully risen! Members of the Riyadh Weekend Activity Group meet every Friday morning to get their sweat on with Zumba in the peaceful Hajr Garden, organized by Consuls Josie Sison and Michael Du Tillieul.
The Dallas Active Lifestyle Group activated their mindfulness virtually on Friday, 31 July, reminding us that a connection between mind and body can be found even with just a connection to the internet. Activity hosts Kashef Mughal and Marilyn Rojas organized an hour-long morning session to show how aerobics, stretching, and recovery can be incorporated into a wellness routine. We greatly appreciate their commitment to helping people within the community to stay healthy.
Over in The Hague, members of the La Dolce Vita Group kick-started their morning with a coffee instead. Our Consul Michael Bonté organized a trip to the Single Estate Café on a sunny Saturday morning, 8 August, so that the group could continue their quest to find the best coffee spots in town. Good coffee with good company — sounds like a great way to start the day!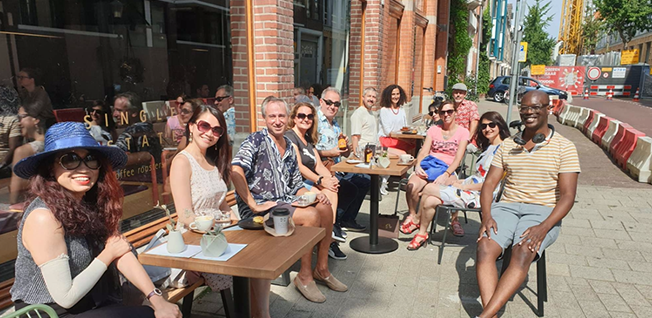 Photo credit: Michael Bonté
The first week in August brought beautiful weather to Düsseldorf, too, and members of the Duesseldorf Explore the City Group decided to take advantage of this with a trip to the Stadtstrand on Thursday, 6 August. They came with their blankets and beverages to the banks of the Rhine, where they soaked up the evening sun. With food trucks and deck chairs on hand, the group chose a great spot to hang out as they waited for the sunset. We would like to offer our thanks to Kummi Oh for hosting the activity!
Members of the Doha Photography Group were also eager to make the most of the summer sunset. They gathered in MIA Park on Friday, 7 July, and used this unique vantage point to take some truly breathtaking photos, some of which can be seen below. With the help of a Zoom call, they ensured that even group members who were unable to join them in person did not miss out on this incredible opportunity, which was organized by our Ambassador Angie Libradilla.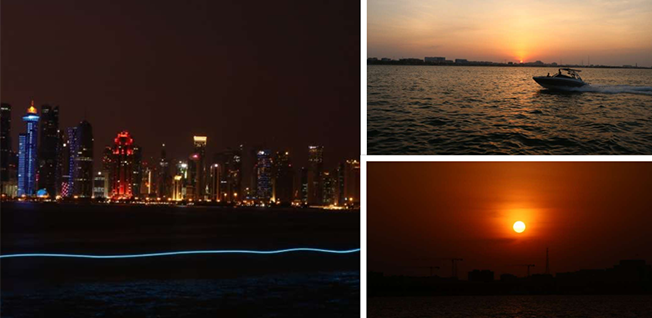 Photo credit: Angie Libradilla
Keep the Good Times Coming! Virtual and In-Person Events to Look Forward To
As we look forward to the next month, we see that our communities across the world are finding safe, exciting ways to spend quality time with friends and fellow global minds.
For those who missed out on the Doha Photography Group's sunset trip, and for those who just can't get enough of snapping that beautiful scenery, the group will meet for a beach photoshoot on Friday, 21 August. With a bonfire planned for later in the evening, this promises to be another brilliant opportunity for both experienced photographers and complete newbies alike. Thank you again to Angie Libradilla as well as Consuls Shan Vazhavila and Rahat Latif for giving everyone a motive to get their creative juices flowing!
Over the past few months, we have also seen how the internet is capable of transporting us across the globe and providing us with opportunities in communities that would otherwise feel very far away from our own. We wholeheartedly encourage to make the most of this in the coming weeks.
Why not, for example, join the Pune Changemakers Group, and award-winning watercolorist Supriti Shiwam, for an online art class on Saturday, 22 August? This event will explore how art can be used as a tool for lifting spirits and sparking positivity, all within an hour-long, family-friendly session meant for everyone, regardless of artistic ability.
If you're looking instead to bolster your cooking repertoire, you could spend your Friday evening meeting other people as you learn to make a Himalayan curry with the Cologne Asean Culture and Cuisine Group — the perfect way to satisfy your social, as well as nutritional needs.
Remember to check out the events calendar to see what's going on in your own community — or worldwide, virtually — over the next few weeks! From a jazz night in the heart of Vienna to taking a walk through a fairytale in the forests outside of Prague, we are certain that you will find an event that is perfect for you, and meet some amazing people along the way!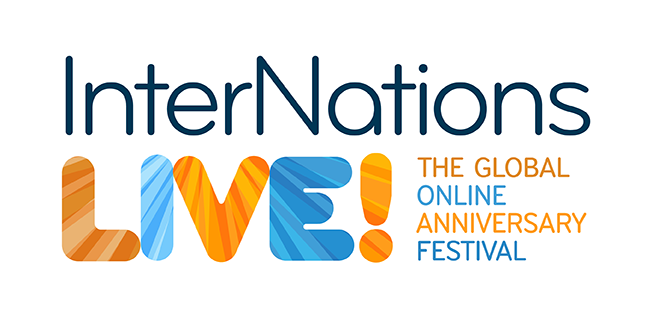 Next month, we will also be celebrating InterNations' 13th Anniversary with our very first global online festival called InterNations Live. Join exciting online events with members from all over the world and help us celebrate our vibrant community!
Filed under: Events on August 15th, 2020